Written by Michael Rohde Tuesday, 22 May 2012 12:23
Minecraft is a truly puzzling game. The graphics are reminiscent of the early days of gaming and the game controls are simple and basic. The game play itself seems staggeringly simple when you first begin. And yet, this game will kick you in the ass. I'm currently playing Minecraft on the Xbox 360 through the Marketplace.
(Even if you don't read this entire article, at least scroll to the bottom to see the screen capture I found online of someone's creating in Minecraft.)
As for those basic graphics, that can be deceiving and don't let them fool you into thinking you're in some safe environment. When you see one of those green monsters that explode quickly when they approach you -- and you're low on health -- that can be as graphically terrifying as any monster in Dark Souls or Skyrim.
As for those seemingly simple controls, in a matter of time you'll be struggling to figure out how to get yourself out of a jam quick enough. How am I going to build shelter quick enough to survive through the night? How am I going to dig out of this hole I just fell into? How do I reach that coal deposit I see on that cliff edge? How do I traverse that crevasse?
As for that simple game play, well, it's only simple if you can find enough pigs to eat to restore your health, and it's only as safe as finding adequate shelter and don't even get me started on finding your way back to the base camp that you constructed after you go exploring. Getting lost in Minecraft is as easy as walking in any one direction for a matter of a few steps.
To pass Minecraft off as a simple child's game is a complete discredit to gaming as a whole. It can be as basic or as complex as you want to make it. You can build extravagant buildings or you can find a good cave to hole up in or you might even decide to carve out the side of a mountain in which to build your home. Oh. Did I say, "home?" Good luck with staying in one place for any length of time. If you play like I do, you'll be constantly building new campes as you search for new food resources, new mining opportunities, more forests, more iron, more gold... Oh. The promise of gold. I have yet to find ye.
Despite playing several rounds of Minecraft, the best I have managed to do is find some coal and some iron. The thing is, everytime I die, I want to start a fresh new game. And that means starting over from the beginning with chopping wood for a crafting table, finding a cave for shelter and looking for the mine that will lead me to riches. The game is harder than it looks. But I'm getting better.
I started a round last night and I survived the first three or four nights. I even found a natural cave that extends deep into the ground. At the first few levels of this cave I found plenty of coal and iron. I built myself a fortress within this cave that I found in the hills surrounded by trees. I have it all, right? I have access to plenty of wood, a deep mine that opened up to even more passages the deeper I dug, and right before I saved the game for the night, I discovered a source of lava deep underground.
There's only a couple of problems. That lava I found, it's several layers below me and I'll have to figure a way to drop down to it without falling and breaking my neck. You see, as I was mining, I broke through a wall to reveal a sharp drop off to the promise of lava below. And I've read before that gold is usually found deep in the ground near lava. And you can use lava to make gunpowder. I'm feeling like I've hit the mother lode: there's the strong possibility of gold in the area and if not I can always hopefully make some TNT to help with the mining effort. It's just a matter of getting down to it. Perhaps a ladder or some creative placement of cobblestone will get me down there. When I discovered that cobblestone can 'float' in the air as long as it's connected to at least one side of another element, then the creative juices started to flow. I've actually made cobblestone bridges in this manner. So, that's the first problem: how to reach the lava.
The second problem is my health. I have just about everything except food and I'm down to one and a half hearts (health). I'm gonna die the next time I come across an exploding monster if I don't run away fast enough. I'm faced with the reality that I must increase my health before I can explore the lava. And there's a distinct lack of food resources in my immediate area. That's where Minecraft gets you: the game will give you two out of the three things that you need and you have to scramble for the third. Those three resources being: food, minerals, and trees. I have yet to start a map where all three things were in large supply at the start of the game. And I'm playing on easy.
All of that is what makes Minecraft fun to play. It's an easy concept to learn, but very difficult to master. I'll be continuing last night's saved game tonight.
P.S. - After I wrote this article I did a Google image search to find good pics of Minecraft and I came across this...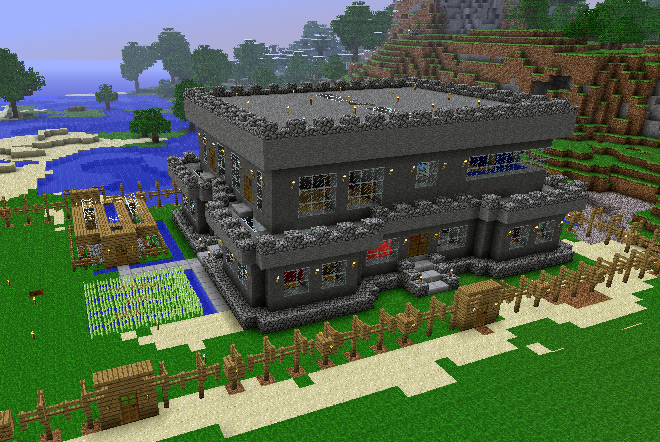 I am humbled by this screenshot and now I feel like I'm playing the game horribly wrong. I MUST BUILD A CASTLE!